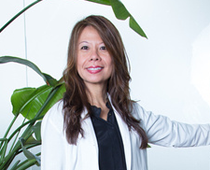 Dr. Allison Guyen :
CHIEF SURGEON AT FOOT & ANKLE
"My years of experience has allowed me to win over the trust of hundreds of patients who believe that we can work together to restore foot and ankle functionality with minimum pain and discomfort".
"Many patients are under the impression that surgery is the only option, however I look at all non-intrusive alternatives before recommending surgery. If there are effective non-invasive procedures that we should look into then we will. I believe that surgery should be the last resort. If there are other ways to get you back in your shoes and heels, then we will definitely try them out. I'll also recommend exercises that can speed up recovery. I feel humbled when a former patient says that they have recommended me to their loves ones." – Dr. Guyen
What sets Dr. Guyen apart from others in her field is that she practices innovative modern podiatry which makes her the go-to person for celebrities, professional athletes, musicians and for other both local and international patients that have visited Foot & Ankle Institute of Miami Beach.
Dr. Guyen is a Diplomat of American College of Foot and Ankle Surgery and she is certified by the American Board Of Foot & Ankle Surgery. She obtained her undergraduate degree at the celebrated Fairfield University in Connecticut and pursued her studies in Barry University School of Podiatric Medicine in Florida where she graduated on top of her class.
She's a proud member of Phi Delta National Honor Society. After graduation she went through a rigorous three-year residency program in Reconstruction Foot and Ankle at Hoboken University Medical Center.
Prior to launching Foot & Ankle Institute of Miami Beach, Dr. Guyen had her own private practice for 13 years.
When you visit Foot & Ankle Institute of Miami Beach you can rest assured that you'll be given all the attention you need and will be treated by the best foot and ankle physicians in the country. At our institute, we pull all stops to treat foot and ankle injuries no matter how big or small they are.