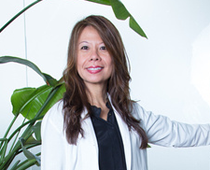 Meet Dr. Allison Guyen :
CHIEF SURGEON AT FOOT & ANKLE
"What I love about my job is that my patients trust me to take a journey with them to better health and functional foot and ankle with no pain".
"When a patient comes in for surgery as an option, I have always looked for ways to obtain the best results without surgery and if surgery is required how can we get you back to shoes, highheels, and exercising in half the time during recovery. It humbles me when my patient calls to let me know that they have referred a family member, friends, co-workers or even strangers that they have meet and shared their experience about our practice." Dr. Guyen practices innovative modern podiatry that alone set her aside from her peers. Dr. Guyen has treated hundreds of patients including celebrities, professional athletes, musicians, international and local patients that has walked through the doors at Foot & Ankle Institute of Miami Beach.
Dr. Guyen is Board Certified by American Board Of Foot & Ankle Surgery and Diplomat of American College of Foot and Ankle Surgery. She received her undergraduate at prestigious Fairfield University in Connecticut and proceeded to Barry University School of PodiatricMedicine in Florida. She is a member of the Phi Delta National Honor Society and graduated top
of her class. She completed an intense 3 year residency program in Reconstruction Foot and Ankle at Hoboken University Medical Center. She served as the Assistant Residency director for podiatry at Hoboken University Medical Center and also had a private practice in New Jersey for 13 years before relocating to Miami Beach, Florida.
When you arrive to Foot & Ankle Institute of Miami Beach, we guarantee that you will treated with first class service by the physicians and staff. No foot and ankle conditions are considered too big or too small that we cannot help.