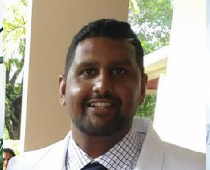 Meet Dr Raj Prabhakar :
DOCTOR OF PODIATRIC MEDICINE
I began my podiatric journey at Nova Southeastern University, where I completed my undergraduate studies in pre-medicine. While at Nova Southeastern, I also displayed my athleticism as a dedicated member of the university's basketball team. This experience fostered a strong work ethic, teamwork skills, and a competitive spirit that I carry into my professional practice.
Motivated by my interest in medicine, I pursued my Doctor of Podiatric Medicine degree at Barry University. During my time at Barry University, I excelled academically and developed a keen interest in foot and ankle surgery.
To further enhance my expertise, I completed a rigorous residency at Mercy Hospital. This invaluable experience provided comprehensive training in trauma, as well as honing my skills in minimally invasive surgical techniques and sports medicine surgery. I thrived in this fast-paced environment, mastering the art of diagnosing and treating various foot and ankle conditions.
Driven by my dedication to sports medicine, I sought further specialization through a prestigious sports medicine fellowship. During this fellowship, I had the privilege of working alongside renowned experts in the field and sharpening my surgical skills in minimally invasive procedures. My exceptional abilities and commitment to excellence led to exciting opportunities to collaborate with professional sports teams such as the Miami Heat, Inter Miami Soccer, and the University of Miami.
As a trusted podiatrist, I a prioritize compassion, open communication, and taking the time to listen to my patients' concerns and goals. Utilizing my extensive knowledge and expertise, I offer personalized treatment plans that cater to each individual's unique needs, whether they are professional athletes or weekend warriors.
I remain at the forefront of advancements in podiatry and sports medicine through active involvement in professional organizations and continuous education. My dedication to my field and my patients is evident in my commitment to delivering the highest standard of care and achieving exceptional outcomes.
Outside of my practice, I enjoy staying active through various sports and activities. I believe in leading by example and maintaining a healthy lifestyle to inspire my patients to prioritize their foot and ankle health. I am committed to delivering the highest quality of care to all those who entrust their foot and ankle health to me.